CERTIFIED BY SUPERBRANDS AS THE BEST COMPANY OF THE YEAR: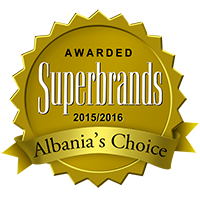 The company is operating under the trade name "Globe" and has 13 shops (8 owns + 5 franchise) all over the country. Globe ranks among the leading companies in Albania. Shops sizes can vary depending on cities – population (300-500-1000-2000 m2).The company started its activity in the field of household and electronic appliances in 2000,
With its first showroom  "Electrolux" in Tiranë. Step by step, it was consolidated and reached to be one of the leader companies of the country. In 2007 was opened "Globe Home expert" shop with it`s location in "Rr Kavajes" a main street in Tirana with a total area of 2000 m by presenting a new image in the technology field , in professional service and high qualification of shop sales staff.
ELECTRONIC & ELECTRICAL APPLIANCES